one immaculate seven
photography+words by Aaron Liao all content © aaronliao.com
see also: http://sti.aaronliao.com
http://turbo.aaronliao.com
http://sls.aaronliao.com

The BMW 7-Series is widely regarded as the epitome of luxury, appropiately making the statement (for the driver), "i've made it." The 740iL, though not the flagship vehicle, offers unparalleled smoothness and list of amenities that takes a manual the thickness of an encyclopedia to encompass. Aaron Liao's modified DINAN7 screams, "i've arrived...and then some."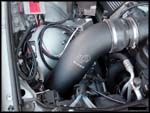 Aaron has supplemented the BMW's already-potent 4.4l V8 engine with the entire Dinan line of products, making the car worthy of the "DINAN7" badge it wears. The increased air induction via the Dinan cold air intake and air flow meter required an increase in breathability on the output end as well, so on went an Eisenmann High Performance exhaust system terminating in four 83mm pipes which peek out just enough from a Hamann rear apron to make a statement - and make a statement it does as the tarmac rumbles on wide open throttle. To complement the rear apron, Aaron has also installed Hamann's front spoiler and painted everything artik silber to match. When asked why Aaron chose to go with BMW's factory "sport" sideskirts instead of the Hamann pieces which were also available, Aaron replied, "because the Hamann skirts looked too ricey."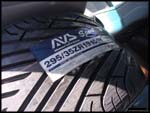 To finish things off on the BPU end, Aaron installed a 3.15 differential from the 740i Sport as a temporary replacement for the stock 2.82 differential while a 3.64LSD is being researched. With the additional power the modifications provided, Aaron needed a better way to put it all down as the stock 16" wheels were neither aggressive nor ample for the ~250rwhp and ~260lb-ft torque the car was producing (at the rear wheels). Aaron swapped on a set of OEM BMW 19" wheels from the 745Li (yes, the one with the chubby rear). Matching the staggered set of multi-spoke wheels is a set of Yokohama AVS Sport rolling stock with a beefy 295mm contact patch in the rear and a staggered 255mm up front.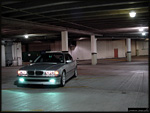 As Aaron's bimmer came from the factory without OEM high intensity discharge headlamps, a Catz 4500k HID kit was retrofitted in and a set of 5th generation Daylight Demon Eyes (similar to the "angel eyes" on 5-Series cars) was installed, giving the front headlights an updated look. Hooked on the xenon glow and in need of a matching (at least in terms of light output) look for his foglamps, Aaron went straight for a Catz 6000k HID foglight kit, passing up the simple bulb modifications that most people do and going straight for a ballast+ignitor setup with the Catz kit. Needless to say, driving through Aaron's favorite mountain pass in the dark is now quite a different experience.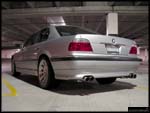 To avoid possible altercations with the law with the newfound power of his 7er (which can now sprint from 0-60mph in just under 6 ticks of the second hand and run the quarter mile in the low 14s with a trap speed of over 100mph), Aaron has equipped the cockpit of his bimmer with some of the finest countermeasures available. These include a Valentine 1 radar detector and a Uniden BCT-12 police scanner, both hardwired to the vehicle's electrical system so that no unsightly wires show. In addition to this, Aaron wired up a CB Radio (set to monitor channel 19) and an Escort ZR3 laser jammer, which just so happens to be illegal in his native state of California. Finishing up the interior touches are a custom-wired push button starter from the BMW Z8, an M5 sport steering wheel and an AC Schnitzer aluminum pedal set.

Future plans for the Hamann DINAN7 include a 3.64 limited slip differential with 35% lockup which will effectively bring the car into mid 5-second 0-60mph range and allow it to run through the quarter mile in the 13-second range. A complete custom Alpine/JL Audio/MB Quart sound system is also in the works.



PHOTO/MEDIA GALLERY








download: 01.mpg
(right click save as)
length: 0:15
size: 5.22mb

download: 02.mpg
(right click save as)
length: 2:41
size: 33.0mb

download: 03.mpg
(right click save as)
length: 0:15
size: 5.21mb

Engine
Dinan Cold Air Intake
Dinan High Flow Air Flow Meter
Dinan Stage 4 Engine Software
Eisenmann High Performance 4x83mm Exhaust
VAC Motorsports Underdrive Pulleys

Transmission/Drivetrain
Dinan Automatic Transmission Software
BMW 740i Sport 3.15 Differential

Suspension
Bilstein HD Shocks/Struts
Eibach Pro-Kit 1.3" Springs
BMW European Sport Sway Bar 13mm fr
22mm r

Wheels
BMW Style 95 19" Star Spoke Wheels
Yokohama AVS Sport 255/40/19 fr
295/35/19 r

Brakes
Brembo Sport Slotted Rotors
Hawk HPS Pads
Goodridge G-Stop SS Brakeline Kit
Motul RBF 600 Racing Brake Fluid

Exterior
Hamann Front Spoiler
Hamann Rear Apron
BMW Sport Sideskirts
BMW 750iL Chrome Kidney Grills
Llumar 35% Tint

Lighting
Catz 4500k HID H1 Lowbeams
Catz 6000k HID H3 Foglamps
PIAA Ion Yellow Highbeams
Daylight Demon Eyes (DDE) Gen V
BMW European Clear Lenses
Philips Silvervision Bulbs
Parking Lights (front) Disabled

Interior
BMW Z8 Push Button Starter
BMW M5 3-Spoke Steering Wheel
AC Schnitzer Aluminum Pedals

Electronics
Valentine 1 Radar Detector
Escort ZR3 Laser Jammer
Uniden BCT-12 Police Scanner
Uniden PRO520XL CB Radio
G-Tech Competition

I.C.E.
Infinity Basslink

Coming Soon
diffsonline.com 3.64 LSD
iForged 19" Custom 3-Piece Wheels
UUC 355mm Big Brake Kit
MB Quart Component Speakers
JL Audio 500/1 Amplifier
JL Audio 10W7 Subwoofers (2x)
Alpine IVA-D900 DVD Player
Alpine TME-M580 5.8" Monitors (2x)
BMW M5 Gauge Cluster
BMW M5 Trunk Spoiler


Performance Numbers
60ft: 2.306s
1/8 mile: 9.306s @ 79.50mph
1/4 mile: 14.254s @ 101.43mph